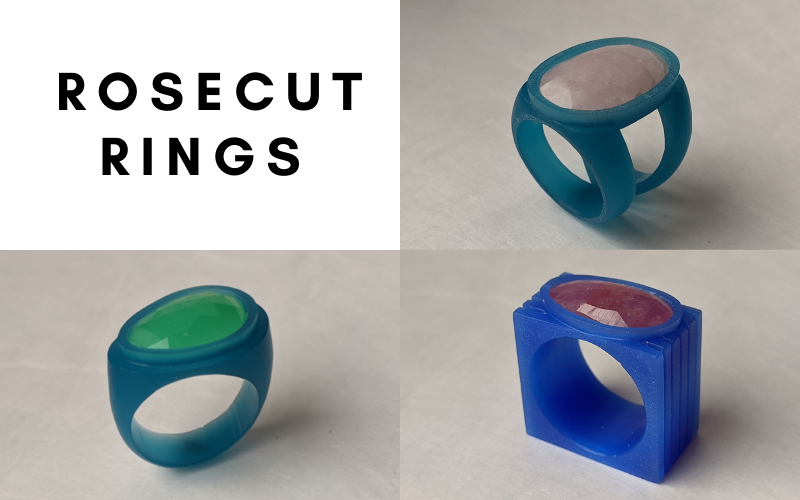 Do you love big gemstone rings? Of course you do, who doesn't! In this class you learn to make rings for rosecut stones. You can make a small ring. But it's more fun to go big and bold!
This class is perfect if you like making one-off rings. Let the shape of your stone inspire the shape of the ring! Every ring will be different, that's what keeps it fun. You learn how to make a setting for your stone in wax. And different ways of finishing a ring band.
This class doesn't cover how to set stones, only how to make the settings. A basic knowledge on stone setting is helpful to make the most out of this class.
Is this what you're looking for? Then don't wait
And
Hi I'm Sandy. I make all the waxes you see in the videos and photos. But I also write the handout, make the videos and edit them into the tutorial videos. Out of all these, wax carving is definitely my strong point.
I trained at the school of jewellery in Dublin, where I learned wax carving. After finishing my degree, I taught at the school for a year and worked at a jewellery shop as a bench jeweller/sales person.
While travelling through Asia for the past two years (pre pandemic), I took some short courses to expand my skills and rented bench space to keep making jewellery (need a recommendation of jewellery classes in Asia/bench rental? Ask me!) Personal highlight was teaching a wax carving workshop at Lucy Walker in Kuala Lumpur.
Besides my training, I've practiced A LOT. Add a healthy dose of stubbornness (I won't let wax breaking defeat me!) to keep trying until I can make what I set out to make. There's broken waxes and first attempts in my scrap wax box. I'm proud of those, because practice is the only way to get better.
This class is made with love. I love wax carving and I'm excited to teach you.